Isa, Xavi, Peter, and Finn know that a job at the high-end Waterside Cafe isn't just about waiting tables. It's about the gossip, the hook-ups, the after-hours parties and, most of all, it's about Tips.
Tips–the high-stakes game based on dares. Whoever completes the most dares wins the collected money. A sum that could change a wasted summer into a Summer to Remember.
Isa is the new girl with an embarrassing secret, and as long as she stays on top of her game, she sees no reason why anyone could ever find out.
Xavi will do anything for the money…absolutely anything.
Peter, Xavi's stepbrother, has been in love with her for years, and he thinks the game is the perfect time to confess his feelings.
Finn is in the game just for the thrill. He has enough tips coming in to keep him happy…even if those tips come with some conditions.
From seduction to stealing to threats, the dares are a complete free-for-all, and only the best can win.
The sophisticated Waterside Cafe is anything but classy behind the scenes…and things are about to get dirty.
When Ivy Emerson's family loses their house—complete with her beloved piano—the fear of what's to come seizes her like a bad case of stage fright. Only this isn't one of her single, terrifying performances. It's her life.
And it isn't pretty.
Ivy is forced to move with her family out of their affluent neighborhood to Lakeside, also known as "the wrong side of the tracks." Hiding the truth from her friends—and the cute new guy in school, who may have secrets of his own—seems like a good idea at first. But when a bad boy next door threatens to ruin everything, Ivy's carefully crafted lies begin to unravel . . . and there is no way to stop them.
As things get to the breaking point, Ivy turns to her music, some unlikely new friends, and the trusting heart of her disabled little brother. She may be surprised that not everyone is who she thought they were . . . including herself.
Debut author Sharon Huss Roat crafts a charming and timely story of what happens when life as you know it flips completely upside down.
When a woman's body is found in a Portland park, suspicion falls on an awkward kid who lives only a hundred feet away, a teen who collects knives, loves first-person shooter video games, and obsessively doodles violent scenes in his school notebooks. Nick Walker goes from being a member of Portland's Search and Rescue team to the prime suspect in a murder, his very interest in SAR seen as proof of his fascination with violence. How is this even possible? And can Alexis and Ruby find a way to help clear Nick's name before it's too late?
A week ago, you woke up in Los Angeles with no memory of who you are. The only thing you knew: people are trying to kill you. You put your trust in Ben, but he betrayed you and broke your heart. Now you've escaped to New York City with a boy named Rafe, who says he remembers you from before. But the two of you are not safe. The same people who are after you are tailing Rafe as well. As the chase heats up, your memory starts to return, but your past cannot save you from the terrifying circumstances of your present, or the fact that one wrong move could end this game forever.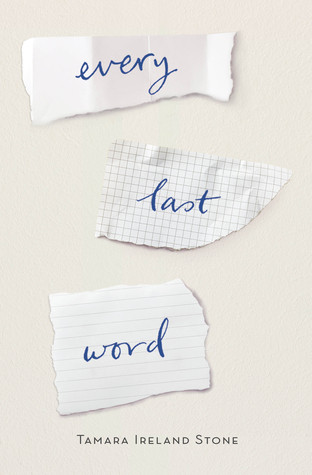 If you could read my mind, you wouldn't be smiling.
Samantha McAllister looks just like the rest of the popular girls in her junior class. But hidden beneath the straightened hair and expertly applied makeup is a secret that her friends would never understand: Sam has Purely-Obsessional OCD and is consumed by a stream of dark thoughts and worries that she can't turn off.
Second-guessing every move, thought, and word makes daily life a struggle, and it doesn't help that her lifelong friends will turn toxic at the first sign of a wrong outfit, wrong lunch, or wrong crush. Yet Sam knows she'd be truly crazy to leave the protection of the most popular girls in school. So when Sam meets Caroline, she has to keep her new friend with a refreshing sense of humor and no style a secret, right up there with Sam's weekly visits to her psychiatrist.
Caroline introduces Sam to Poet's Corner, a hidden room and a tight-knit group of misfits who have been ignored by the school at large. Sam is drawn to them immediately, especially a guitar-playing guy with a talent for verse, and starts to discover a whole new side of herself. Slowly, she begins to feel more "normal" than she ever has as part of the popular crowd . . . until she finds a new reason to question her sanity and all she holds dear.
The members of Don't Get Mad aren't just mad anymore . . . they're afraid. And with Margot in a coma and Bree stuck in juvie, it's up to Olivia and Kitty to try to catch their deadly tormentor. But just as the girls are about to go on the offensive, Ed the Head reveals a shocking secret that turns all their theories upside down. The killer could be anyone, and this time he—or she—is out for more than just revenge.
The girls desperately try to discover the killer's identity as their personal lives are falling apart: Donté is pulling away from Kitty and seems to be hiding a secret of his own, Bree is under house arrest, and Olivia's mother is on an emotional downward spiral. The killer is closing in, the threats are becoming more personal, and when the police refuse to listen, the girls have no choice but to confront their anonymous friend . . . or die trying.
The revolution is here.
Bodies line the streets of Urobrun; a great pyre burns in Republic Square. The rebels grow anxious behind closed doors while Marlis watches as the politicians search for answers—and excuses—inside the Chancellery.
Thea, Freddy, Nan, and Sigi are caught in the crossfire, taking refuge with a vibrant, young revolutionary and a mysterious healer from Irminau. As the battle lines are drawn, a greater threat casts a dark shadow over the land. Magic might be lost—forever.
Sometimes life leaves a mark…
Most days, Andrea doesn't know whether she wants to kiss Tanner or punch him in the gut. He is seriously hot, with legit bedroom eyes and that firefighter body of his, but he's a major player, and they can't get along for more than a handful of minutes. Until now.
Tanner knows he and Andrea have had an epic love/hate relationship for as long as he can remember, but he wants more love than hate from her. He wants her. Now. Tomorrow. But the more he gets to know her, the more it becomes obvious that Andrea has a problem. She's teetering on the edge and every time he tries to catch her, she slips through his fingers.
Andrea's life is spiraling out of control, and it doesn't matter that Tanner wants to save her, because when everything falls apart and she's speeding toward rock bottom, only she can save herself.
Sometimes life makes you work for that happily ever after…
Before Matt, Ella had a plan. Get over a no-good ex-boyfriend. Graduate from high school without any more distractions. Move away from Orlando, Florida, where she's lived her entire life.
But Matt—the cute, shy, bespectacled bass player who just moved to town—was never part of that plan.
And neither was attending a party that was crashed by the cops just minutes after they arrived. Or spending an entire night saying "yes" to every crazy, fun thing they could think of.
Then Matt abruptly left town, and he broke not only Ella's heart but those of their best friends, too. So when he shows up a year later with a plan of his own—to relive the night that brought them together—Ella isn't sure whether Matt's worth a second chance. Or if re-creating the past can help them create a different future.