So I'm guilty of something that most bookworms are guilty of. I've bought books that still haven't been read. (cue dramatic gasp of horror). I know. It's awful. What's worse is that I keep buying more and more books. What is my problem? I have unread books at home but I still come home with more books. It's a problem. I need help. I mean look at this freaking bookstack.
Yea. That's all the books I haven't read. Well all the physical books I haven't read. There are many others on my Kindle but I'll save that for another post. (Captain Hindsight speaking: The dummy writing this post forgot 4 books when making this stack. She'll talk about them anyway.) So yes, I have 20 unread physical copies of books just sitting there. So I'd thought I'd list them and talk about why I bought each one. (Maybe I'll do this with my unread Kindle books later…)
Democracy in The Dark: The Seduction of Government Secrecy by Frederick A.O. Schwarz Jr.
Okay, so not exactly a YA book. I actually got this book for free when I went to this absolutely fascinating panel at the National Press Club. The panelists discussed the importance of government secrecy but also how much secrecy is too much to properly run a democratic government. As a journalism and political science student, this topic kind of fascinates me. (Side note: The author is the great grandson of the founder of FAO Schwarz, that iconic toy store in New York.)
Carrie by Stephen King
Again, not exactly YA….I picked this up because it's just one of those iconic horror books. I'll be honest, I'm very easily scared so I don't know what possessed me to buy a horror novel but I wanted to give Stephen King a shot and to be honest the movie trailers for this make it look kind of awesome. So I'm hesitant to read this but I'm excited to give it a shot.
Change of Heart by Jodi Picoult
Okay, we're going to have to accept that the majority of these books aren't YA. Sorry about that. Anyway, I had just finished reading My Sister's Keeper, and I had fallen in love with Jodi Picoult's writing style. The story seems like it's going to be really engaging so I picked up.
A Christmas Carol by Charles Dickens
I've actually inherited this book from my mom so my copy is pretty old. According to Goodreads, this edition was published in 1963 so that's older than my mom. Really I've seen so many adaptations of this and loved them so I really just wanted to read the original source material. I've never actually read a Charles Dickens novel (I was spared from that in high school) so I figured I'd start with a tiny one.
Dracula by Bram Stoker
Another classic I have yet to read. I honestly got this book because the cover is kind of beautiful. It's one of those Couture Classics with the deckle edges and the gorgeous shiny cover art. It was too beautiful to leave just sitting on the shelf, especially since I got it at a used bookstore so it was like $8. But legit, I want to give this story a shot since I am kind of fascinated with vampire lore.
The Girl with the Dragon Tattoo by Stieg Larsson
I really felt like there was a lot of hype behind this book. People really seem to like this series so I figured I should give it a shot. I love anything with murder and crime. I mean I fall asleep watching Forensic Files on HLN. Crime fascinates me. So I thought this book might be right up my alley.
The Hunchback of Notre Dame by Victor Hugo
So I don't know if I've ever mentioned this but I'm a French minor. I took a French literature course, and I became kind of fascinated by French authors. So I thought I would challenge myself with a monster by Victor Hugo himself.
Awoken by Sierra Elinsen
This was recommended to me by a friend (to be honest, it's also her copy. I know I'm the worst). The idea of the story seemed intriguing and she really liked it so I said I'd give it a shot. I really need to get on that.
WUTHERING HEIGHTS BY EMILY BRONTË
Okay maybe you've noticed a trend. I want to read a few classics before I die. I want to read them on my own terms. So I've picked a few that I thought I might like. I might point out that I actually was intrigued with this book because of Twilight, which is so cringe but they talked about it so much that I felt like maybe I needed to read it for myself. Go ahead. Take a moment to judge me.
Jane Austen: Complete and Unabridged by JAne Austen
So this is actually a very large compilation of Jane Austen Novels. It has Sense and Sensibility, Pride and Prejudice, Mansfield Park, Emma, Northanger Abbey, Persuasion, and Lady Susan. I really enjoyed Pride and Prejudice and I think Jane Austen was kind of a kick ass woman for her time. So I really wanted to read more her books. Plus I found this at a used bookstore for like $9 or $10 and that's pretty amazing considering I'm getting seven novels.
Let's Get Lost by Adi Alsaid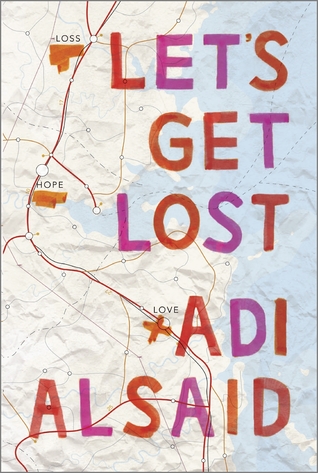 Another book I got at the used bookstore with the very cheap books. I was first just really drawn in by the cover. Something about the map really captivated me. I don't know how to explain it. I just really liked the cover. The story seems like it will be really good and people have said good things about this novel so I'm excited to give it a read.
The Lord of the Rings Trilogy by J.R.R. Tolkien
I got this as a Christmas present from my grandfather. I had mentioned that I wanted to try reading it because The Hobbit was coming out in theaters and I never gave this series a chance. I just wrote it off as something I would never like. I did try reading this but it was a bit slow for me. I mean it was summer and I wanted to read quick and simple books so this was not the right choice for me at that moment. I'm definitely going to give this another shot since I know it's a good series.
A Million Little Pieces by James Frey
So I had heard about this book in my AP Lang class my junior year of high school. More accurately I read about the scandal surrounding the book. So James Frey kind of exaggerated some of the details in his memoir and it blew up in his face. I still wanted to read it because it deals with substance abuse which is something I find really interesting. I feel like we don't get to hear a lot about substance abuse and recovery because it's so taboo, and  though some details in this book aren't entirely true, I feel like it's important to talk about these issues because they're more common than we think.
Mirror, Mirror by Gregory Maguire
So as you all probably know, I'm a huge Wicked fan. I love the musical and I love the book. I really like fairy tale retellings. I find them fascinating and Gregory Maguire is kind of your guy if that's your thing. I'm really excited to read this and I'm not sure why I haven't picked it up already. It seems like it's going to be great.
Mistress of the Art of death by Ariana Franklin
Another used bookstore find. This book is a crime novel set in the 17th century (I think? Might be 16th or 18th. Point is, it's set in the olden days). The premise really intrigued me and we've already established that crime is normally my cup of tea.
Sense and Sensibility and Persuasion by JAne Austen
Another Austen compilation. So there are many things that compelled me to get this. First, I had just finished Pride and Prejudice so I had Jane Austen in my head. Second, the book is gorgeous. It has deckle edges and gorgeous gold details on the sapphire blue cover. And third, Border's was closing down and this gorgeous masterpiece was practically a steal. I needed it in my life and it was suddenly ridiculously cheap.
Son of a Witch by Gregory Maguire
So another Gregory Maguire book. This is the sequel to Wicked so obviously I wanted to read it. It's just been so long since I've read Wicked that it feels a little odd to just jump in and read the sequel. I know the Musical made some changes to the plot so I really need to read Wicked again before I read Son of a Witch.
Paper Towns by John Green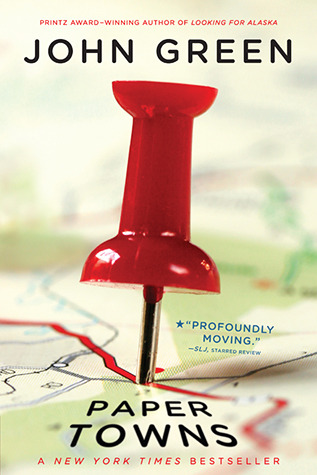 I actually picked this up recently when I was hanging out at Barnes and Noble with a friend. So far, I've loved John Green's books, and I know the movie for this one is coming out soon so I wanted to read this before I watched the movie. The trailer makes this look like a really interesting story and the way that John Green talks about it makes me think that I'm really going to like this book. I'll probably be picking this up next week when I go to the beach with my family.
A Feast for Crows by George R.R. Martin
I just have the box set for the Song of Ice and Fire series and this is the next one I need to read. I really like this series and I didn't expect to like it so it was a nice surprise.
A Dance with Dragons by George R.R. Martin
The fifth book of the Song of Ice and Fire Series. I have a good reason for not reading this yet and it's that I need to read A Feast for Crows first. This is the last of my unread books. I really need to get reading, don't I? Thanks for reading!